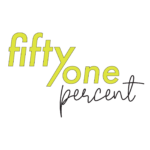 On this week's 51%, we'll listen to a conversation with the youngest female founder and CEO to take a company public.
At age 35, Stitch Fix founder Katrina Lake became the youngest female founder and CEO to take a company public, and it happened in 2017. Online personal styling company Stitch Fix is now worth more than $2 billion. She has not only changed the way many of us shop for clothes, but she's also changing how we think about leaders. Inflection Point host Lauren Schiller spoke with Lake about how she learned to embrace her history-making role as the youngest woman to take a startup to IPO. Perhaps you saw the image of Lake at NASDAQ, standing with her son on her hip. Schiller spoke with Katrina Lake onstage at Inforum at the Commonwealth Club in San Francisco.
That was Kristina Lake, founder of Stitch Fix. She was speaking with Inflection Point host Lauren Schiller, produced at KALW in San Francisco. Hear Schiller's other conversations at inflectionpointradio.org, and on her Inflection Point podcast.
GERMANTOWN, Tenn. (AP) — Republican U.S. Congresswoman Marsha Blackburn could make history by becoming the first woman elected to the U.S. Senate from Tennessee. She is running against Democrat Phil Bredesen, a former Tennessee governor who says he always has been very interested in seeing women get ahead. But, he adds, that doesn't mean Blackburn deserves to automatically win their closely-watched contest to fill the seat left open by outgoing Republican Senator Bob Corker. Bredesen's camp recently announced the launch of the "Women United for Bredesen" group. The campaign-within-a-campaign aims to highlight issues important to women, such as health care costs for their families.
AUGUSTA, Ga. (AP) — NBC Sports will televise the final round of the Augusta National Women's Amateur from the home course of the Masters. The club announced the creation of the women's golf event earlier this year. NBC will show the afternoon April 6 final round the Saturday before the Masters. CBS televises the Masters. It will be the first time for women to compete at Augusta National in Georgia.
That's our show for this week. Thanks to Patrick Garrett for production assistance. Our executive producer is Dr. Alan Chartock. Our theme music is Glow in the Dark by Kevin Bartlett. This show is a national production of Northeast Public Radio. If you'd like to hear this show again, sign up for our podcast, or visit the 51% archives on our web site at wamc.org. And follow us on Twitter @51PercentRadio
"Contributions to 51% #1522 come from the Associated Press. All Rights Reserved."