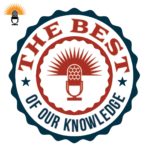 So you've just figured out how to survive in college and now it's time to take on the business world. That presents a whole new bucket of issues.

Today on the Best of Our Knowledge, we'll talk about navigating the dos and don'ts of workplace culture for someone just getting started.
See Advice From Someone Else's dad HERE!
We'll also hear from a history major who decided to travel before jumping into business, and spend an Academic Minute with language and nationalism.