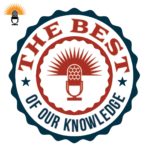 Artificial intelligence is no longer a theory or a science fiction plot. It is all around us and most of us use it every day.
Today on the Best of Our Knowledge, we'll hear about a new national commission on artificial intelligence, and how ethical questions about its use start and end with us, the humans.
Then we'll talk to a film maker who, in her latest project, travels around the world listening to people's stories about climate change. You can watch those films HERE.
And since we're talking about climate, how about an Academic Minute with the polar vortex?