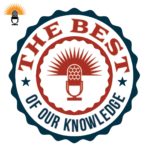 A great way to understand the history of a region and its people is to study their music. And in Mississippi, that music is the blues.
Today on the Best of Our Knowledge, we'll hear about the Mississippi Blues Trail, and how it traces the history of this uniquely American genre of music from its roots around the state to cities around the world.
Then we'll hear about another little talked about community in US history: the thousands of French Canadians who settled in northern New York and New England.
We'll also spend an Academic Minute exploring what the movie Black Panther tells us about African history.