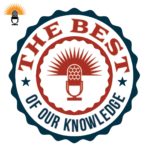 You meet the coolest and most interesting people putting together a weekly program like this, and every year we like to look back and listen again to some interesting conversations with fascinating people. Back in the spring we had a conversation with the head of one of the country's largest teacher's unions about labor actions taken across the country.
Today on the Best of Our Knowledge, our talk with Lily Eskelsen Garcia, President of the National Education Association.
Then it's our conversation with Victoria Stopp, a former teacher who lived with chronic pain and an addiction to opioids.
And we'll spend an Academic Minute meeting a giant of the civil rights movement.