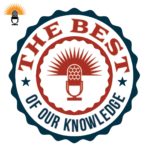 There are some end of year traditions that we all look forward to, and one of mine is looking back over the last 12 months and listening again to some of what we feel were the best stories we told. For years, the cable network C-SPAN has toured the country in a well-equipped bus visiting schools, book fairs and state capitols.
Today on the Best of Our Knowledge, we'll re-take our tour of the C-SPAN bus.
Then it's our conversation with a university librarian about what they are doing to teach students how to recognize false information. And we'll spend an Academic Minute with teens and caffeine, what could possibly go wrong?