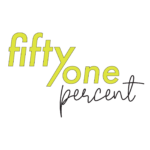 On this week's 51%, a national organization has been reaching out to young women who might consider political futures. We then meet a woman who tells us about her involvement in indigenous-led environmental movements and hear from a mystery writer about her accomplishments.
Rise to Run is a national organization working at the grassroots level to instill confidence and skills in young women with political aspirations. The organization's Bloomington, Indiana, branch has been conducting a series of information sessions. A recent session drew 45 women of various ages. WFHB Assistant News Director Sarah Vaughan spoke with a few of those who attended, including Emma Cannon, who has long dreamed of working in politics but until recently had not thought of herself as confident enough.
Next, we meet Making Contact Community Storytelling Fellow and environmental and indigenous leader Isabella Zizi. She talks about how the 2012 Chevron refinery fire in Richmond, California, sparked her involvement in indigenous-led environmental movements. Zizi walks from one refinery town to the next, showing us what it's like living next door to an oil refinery and how these towns have come together to protect the planet.
When Ellen Hart began writing detective novels, she didn't want to hide her identity. So she created Jane Lawless, a lesbian protagonist, as the star of her books. The Mystery Writers of America honored Hart with a 2017 Grand Master award for her work. KFAI's Dixie Treichel produced this audio postcard.
Thanks to Patrick Garrett for production assistance. Our executive producer is Dr. Alan Chartock. Our theme music is Glow in the Dark by Kevin Bartlett. This show is a national production of Northeast Public Radio. If you'd like to hear this show again, sign up for our podcast, or visit the 51% archives on our web site at wamc.org. And follow us on Twitter @51PercentRadio