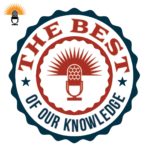 here's a college in the foothills of the Adirondack Mountains of New York whose culinary program has grown to the point where they had to leave the campus and open up a restaurant downtown.
Today on the Best of Our Knowledge, we'll hear from the president of SUNY Adirondack about Seasoned, a culinary experience located downtown.
We'll also learn how archeologists are studying sound, and how archeo-acoustics combined with other research can provide a more holistic understanding of the past…and spend an Academic Minute exploring the stigma of being single.