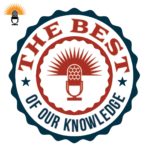 There's very little doubt that white privilege is a thing, how much of a thing is the big question. While some parents say they are raising color-blind children, they could be ignoring opportunities to teach tolerance.
Today on the Best of Our Knowledge, we'll hear from a sociologist whose long term study is the topic of the new book called White Kids.
Then we'll hear from a consumer advocate about toxic chemicals found in some common back to school items. And we'll spend an Academic Minute finding toxins in the dirt in the backyard.