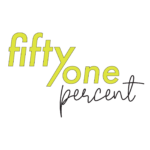 On this week's 51%, we hear from mothers on their thoughts during these changing times and meet the president of a foundation that works to advance gender and racial equality.
On Posterity is a piece for 51% by producer Ahri Golden. It is the second installment in Golden's public radio series called A Mother's Lens. Golden weaves a mosaic of original song with interviews and insights from mothers whose lives have changed during times of national unrest, depicting hope for future generations.
On Posterity, part of the series A Mother's Lens, was created by independent producer and mother Ahri Golden. You can find more of her work at www.ahrigolden.com.
We now bring you Dr. Sharon Ufberg, with her 51% segment "Force of Nature." This time around, she interviews Ruth Ann Harnisch, who is an investor, activist, coach, and philanthropist and was, at a time, a media personality in Nashville, Tennessee. Harnisch also is president and founder of the Harnisch Foundation, which works to advance gender and racial equality and diversity, with a focus on women and girls in the areas of film, journalism, coaching and convening. Ufberg asked Harnisch why she created the foundation, which is embarking upon its 20th anniversary, and if the work has changed over the years.
Dr. Sharon Ufberg is co-founder of the personal development/wellness company, Borrowed Wisdom, in California. She writes for The Huffington Post and Thrive Global.
And that's our show this week. Thanks to Patrick Garrett for production assistance. Our executive producer is Dr. Alan Chartock. Our theme music is Glow in the Dark by Kevin Bartlett. This show is a national production of Northeast Public Radio. If you'd like to hear this show again, sign up for our podcast, or visit the 51% archives on our web site at wamc.org. And follow us on Twitter @51PercentRadio
You can subscribe to 51% on iTunes, Stitcher, or the Google Play store.