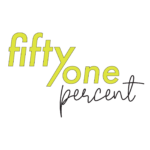 On this week's 51%, a researcher looks into fixing mutated genes linked to breast cancer and we bring you a conversation with the CEO of the Ms. Foundation for Women.
About 1 in 8 American women will be diagnosed with breast cancer. Some of the most aggressive forms come from an inherited gene mutation. Using new visualizing technology, one Virginia researcher is on the hunt for better treatments for those inherited, aggressive forms of cancer. Allison Quantz reports.
It's been more than 40 years since the Ms. Foundation for Women was formed to help women and girls. Gloria Steinem, Patricia Carbine, Letty Cottin Pogrebin and Marlo Thomas founded it in 1973, with a stated mission to build women's collective power to realize a nation of justice for all. Ms. Foundation CEO Teresa Younger talks with Lauren Schiller of Inflection Point from KALW about how feminism can be a value everyone can share. Younger says her work consists of elevating and amplifying the voices of women and girls across the country.
That was Teresa Younger, CEO of the Ms. Foundation for Women speaking with Inflection Point host Lauren Schiller, produced at KALW in San Francisco. Hear Lauren's other conversations at inflectionpointradio.org.
And that's our show this week. Thanks to Patrick Garrett for production assistance. Our executive producer is Dr. Alan Chartock. Our theme music is Glow in the Dark by Kevin Bartlett. This show is a national production of Northeast Public Radio. If you'd like to hear this show again, sign up for our podcast, or visit the 51% archives on our web site at wamc.org. And follow us on Twitter @51PercentRadio
You can subscribe to 51% on iTunes, Stitcher, or the Google Play store.