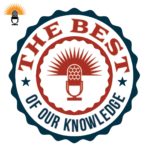 It seems like every day there are more and more outlets available to get news and information. Web sites, podcasts, social media, more web sites are pumping out news stories every hour…many of which have, shall we say, dubious information.
Today on the Best of Our Knowledge, we'll talk about the cacophony of information that's available…and how to tell the true, from the not so much.
We'll also learn about a college in Vermont that is offering its on-line students a big break in tuition… and we'll spend an Academic Minute exploring the connection between memory and sleep.