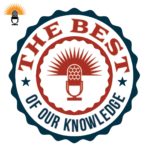 We try to get around here at TBOOK central. A few weeks ago we loaded up the truck and attended a two day seminar on character education. The event took place in New Orleans, so of course one of the people I met and talked to is doing their work in New York City.
Today on the Best of Our Knowledge, we'll introduce you to The Urban Assembly.
Then we'll talk to Victoria Stopp, a teacher and medical professional who suffered an on the job injury, and hear about her book where she tells how she has been living with pain, and without pills…plus we'll spend an Academic Minute looking at both sides of human character.