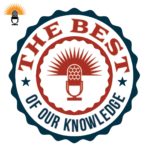 You can have the most extensive education the world can offer and money can buy…but sooner or later you're going to have to learn how to balance a checkbook. So how are states and school systems meeting their responsibility of teaching students basic personal finance skills? One college in Vermont took on that questions and found some answers.
Today on the Best of Our Knowledge, we'll hear from the author of Champlain College's state report card on financial literacy.
Find the National Endowment for Financial Education HERE.
Find the government's personal finance page My Money HERE.
We'll also take it a step further and spend an Academic Minute with your post mortem personal finance.