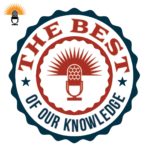 The cable network C-SPAN has been around for decades, bringing the uncut, as it happens business of congress into our living rooms. But did you know that for years, representatives from the network has toured the country in a well-equipped bus visiting schools, book fairs and state capitols?
Today on the Best of Our Knowledge, we'll take a tour of the latest C-SPAN bus as it tours all 50 states.
We'll also hear about a site that has been rating schools around the country for years…and learn how the way they hand out school grades has changed. And we'll spend an academic minute dealing with bad bosses.