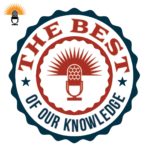 So, did you hear the one about the public radio program that did an episode about the history of humor? OK, that probably qualifies as the least funny way to introduce this episode. Week after week we bring you stories and conversation with some of the greatest minds we can find. But sometimes, even the most stoic professor has got to bring the funny.
Today on the Best of Our Knowledge, we'll talk about the importance of being funny…or at least trying.
Then …and we'll spend an academic minute learning how being an early bird or a night owl can affect the way you make decisions.