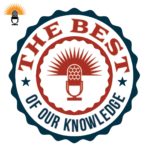 In 1783, the newly formed American congress promised to hang a portrait of a Spanish general who was instrumental in the colonies' victory in the halls of congress. Over 200 years later, it still hadn't happened. Then, a couple of years ago, a young woman found out about that promise and took action.
Today on the Best of Our Knowledge, we'll hear about a new book for students that tells the story of how a young person with a purpose can make a difference.
Then we'll hear about a young person also made a difference in the NY State geometry regents…he found an error. We'll hear about a call to bring back geography to the classroom…and we'll spend an academic minute flirting with disaster.