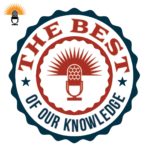 Raise your hand if you've been in more than one morning meeting that didn't quite inspire you for the rest of the day. OK, put your hands down. But teachers across the country are using morning meetings with students to get the day off to a fast, productive start. And it appears to be even more important for students with special needs.
Today on the Best of Our Knowledge, we'll talk about over 100 morning meeting ideas for special ed students.
Then we'll hear from someone who took bedtime stories for his kids and turned them into a book to inspire young students. And we'll spend an academic minute with race religion and politics…what could possibly go wrong?