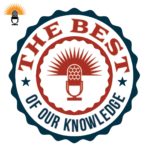 So what were you doing 14 hundred weeks ago? It was the spring of 1990, and a new program called The Best of Our Knowledge debuted on WAMC radio. Bob Barrett, the current producer and host of TBOOK has only been around for the last 300 of those weeks. He went back and listened to the first program he hosted back in 2011 and found that the topic is still interesting and relevant.
So today on the Best of Our Knowledge, let's take another listen to his interview with the author who spent a year at a high school for immigrants in New York City, and wrote a book about the students she shared that year with.
You can hear Brooke Hauser's interview with Allison Dunne about her latest book on the program 51%.
And we'll spend an academic minute finding out if free speech and advertising mix.