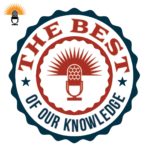 More and more students in the US are choosing to take a "gap year"…a 12 month break from school between high school and college to travel and experience the world. In fact there is one country that is actively encouraging those students to come on down and take that gap year with them.
Today on the Best of Our Knowledge, a conversation about Masa Israel Journey.
We'll also talk to a scientist who authored a study about how some scientists are exaggerating the results of their studies…and we'll spend an academic minute with some gift giving attempts that didn't quite work out.