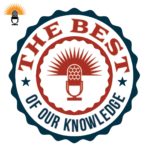 I get to say this every year about this time and it's still true: you meet the most interesting people when you do a public radio show about knowledge! Today, and next week on the Best of Our Knowledge we'll look back at a few of my favorite conversations with from this past year with people who are a whole lot smarter than me.
First we'll hear from Dr. Phyllis Schneck, the Deputy Under-Secretary of Cybersecurity for the US Department of Homeland Security. Then we'll go back and hear my chat with Jeff Newberry, the Poet in Residence at Abraham Baldwin Agricultural College in Georgia.
Finally we'll spend an Academic Minute talking to the animals.