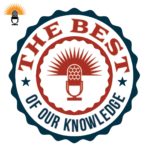 When you stop and think about it, a bachelor's degree in, well just about anything, is pretty much a one size fits all exercise.  Students take the same classes from the same instructors and take the same exams. But that could be changing. So after talking about degrees in Homeland Security and Gaming in the past two weeks, today on the Best of Our Knowledge, we'll hear about a new customizable business degree program.
We'll also talk about big data…it's everywhere.
And we'll spend an academic minute with the story of the only female governor in the US to die in office.