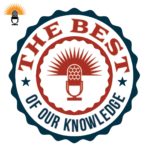 It's been a while since we rang the bell and invited you into history class here at TBOOK University, and given the current atmosphere in the political world, why not talk about one of the most revered politicians in American history.
Today on the Best of Our Knowledge, Sidney Blumenthal talks about the first volume in his massive new project exploring the history of the man who some consider the greatest President of the United States.
We'll also spend an academic minute debating whether you can actually call someone the greatest, when whole populations weren't allowed to participate.