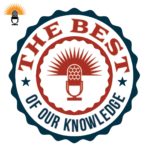 Back in the early 1970s, a new network called National Public Radio hired a young producer out of college who had two special interests: baseball and science. And since the network didn't plan on doing much sports coverage, he finally got on the air with that other topic.
Today on the Best Of Our Knowledge, I sit down with Ira Flatow, the person who founded NPR's Science Unit and the host of the weekly public radio program Science Friday.
We'll also spend an academic minute with the millions of cells in your body that don't really belong to your body…your microbiome.