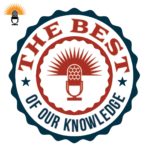 Space is hot. Yes, I do in fact know that outer space is icy cold… but here on planet earth, shows about the planets and exploration of the universe are turning some astrophysicists into rock stars. Well now there's one who would rather be a star in interpretive dance. Today on the Best of Our Knowledge, we'll talk to an astrophysicist who is putting together a multimedia presentation that's out of this world.
Then we'll hear about a unique program in Massachusetts that is helping high school students get a good start to the day.
And we'll also spend an academic minute with a bunch of hungry college kids.