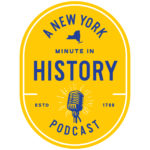 One hundred years ago, on April 11, 1919, New York Governor Al Smith signed the "Historians Law." The first law of its kind in the United States, the Historians Law allowed for every village, town, and city in the state to have an official historian to gather and preserve historical records. On this episode of A New York Minute In History, host and New York State Historian Devin Lander is joined by Clifton Park Historian John Scherer, Saratoga County Historian Lauren Roberts, and former Broome County Historian and past president of the Association of Public Historians of New York State Gerald Smith to discuss the role of local historians and the integral part they play in their communities.
For those interested in learning more about the Historians Law, click here.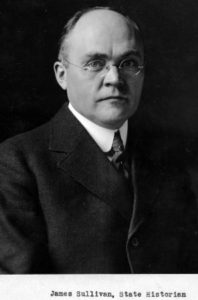 In 1916, James Sullivan was appointed as the New York State Historian. Throughout his first several years in this position, he devoted the majority of his energy to his role as the domestic coordinator for an initiative to educate soldiers. Once World War I ended in 1918, Sullivan became an advocate for preserving local historical records related to New York's involvement in the war.
This hope to maintain local records connected Sullivan with Oneida County Assemblyman Louis M. Martin who had planned a bill which would allow municipalities in New York to appoint a local government historian to preserve the history of their community. On December 30, 1918, Sullivan sent Martin a letter containing a draft of the local historians' bill that would allow each village, town, and city to appoint a historian to collect and maintain materials related to their local history.
The bill moved easily through the Assembly and the Senate but on March 27, it was recalled from the Governor's desk and returned to the Assembly for modification. The role of historical societies and the state historian's role in appointing local historians had been removed and the task of appointment had now been given to municipal leaders. With this change, the bill was eventually signed into law by Governor Al Smith on April 11, 1919.
Although initially frustrated with the changes made to the bill, Sullivan accepted the alterations and began reaching out to municipalities to appoint their historians. The first assignment he tasked the new historians with was to collect and send him copies of materials pertaining to their community's role in World War I. This project led to an invaluable collection of documents and photographs from various New York municipalities role in the war.
One hundred years after the 1919 historians' law was put into place mandating that every village, town, and city in the state have an official historian to gather and preserve historical records, it has continued to evolve and now includes hundreds of county and borough historians as well. The law remains crucial in the preservation of local history and has led to the formation of a unique network of historians exclusive to New York.
Thanks to Gerald Smith, Lauren Roberts and John Scherer for their help with this episode.
Sara Casazza, an intern at the New York State Museum, contributed to this episode.
Music used in Episode 7 of A New York Minute In History includes "Begrudge" by Darby, "Parade Shoes" by Arc and Crescent, "Hash Out" by Sunday at Slims and "Kid Kodi" by Skittle.
A New York Minute In History is a podcast about the history of New York and the unique tales of New Yorkers. It is hosted by Devin Lander, the New York State Historian. WAMC's Jim Levulis is the producer. A New York Minute In History is a production of the New York State Museum, WAMC Northeast Public Radio and Archivist Media.
Support for this podcast comes from the William G. Pomeroy Foundation®, which helps people celebrate their community's history by providing grants for historic markers and plaques. Since 2006, the Foundation has expanded from one to six different signage grant programs, and funded over 840 signs across New York State and beyond … all the way to Alaska! With all these options, there's never been a better time to apply.
The Foundation's programs in the Empire State include commemorating national women's suffrage, historic canals, sites on the National Register of Historic Places, New York State's history, and folklore and legends. Grants are available to 501(c)(3) organizations, nonprofit academic institutions, and municipalities. To apply for signage at no cost to you, or to learn more about the Foundation's grant programs, visit WGPfoundation.org.
This program is also funded in part by Humanities New York with support from the National Endowment for the Humanities. Any views, findings, conclusions or recommendations expressed in this podcast do not necessarily represent those of the National Endowment for the Humanities.