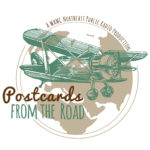 Fueled by curiosity Norwegian Author and Journalist Erika Fatland, 36, traveled through Turkmenistan, Uzbekistan, Tajikistan, Kyrgyzstan and Kazakhstan. She chronicles the 2013 journey in her first book translated into English, Sovietistan. Leading readers around the former frontier of the Soviet Union, Fatland provides historical context as well as political and socioeconomic analysis. There was a shroud of mystery surrounding these five countries and Fatland was determined to find answers.
Erica Fatland's book Sovietistan is published by Pegasus and is now available nationwide.  Her latest book The Border is currently being translated into English and is expected to be released in Great Britain in 2021 followed by North America.
Postcards From The Road is a production of WAMC Northeast Public Radio, and hosted and produced by Elizabeth Hill.  Our theme music is Cherry Blossom Wonders by Kevin MacLeod. As always if you like what you hear SUBSCRIBE on your audio app of choice.  If you would like to share your travel stories with WAMC email us at [email protected].