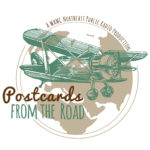 Mary Latham, 32, has been traveling around The United States searching for More Good.  The Long Island, New York native set out three years ago to visit all 50 states.  She has stayed in the homes of over 150 strangers, and when our host Elizabeth Hill spoke to her on October 23rd she had collected stories from 48 states across the country.  Latham said her journey began as a way to honor her mother.
To share your More Good story or to learn more about the More Good movement visit the website at MoreGood.Today.
Can can also connect with Latham on Facebook and Instagram.
Postcards From The Road is a production of WAMC Northeast Public Radioand is hosted and produced by Elizabeth Hill. Our theme music is Cherry Blossom Wonders by Kevin MacLeod. As always, if you like what you hear SUBSCRIBE on your audio app of choice.  If you would like to share your travel story with WAMC email us at [email protected]