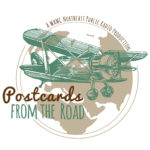 When Mandy Lee, moved from New York City to Beijing in 2010, she experienced "soul-crushing" depression. Finding solace in warm spices and sticky sauces, Lee found she was able to focus and cope with difficulties in her kitchen. In 2019 Lee, 39, released her new cookbook entitled The Art Of Escapism Cooking, which is filled with humor, photography and elaborate flavors.  She says it was a culture and political climate vastly different than her own that sparked her increased love for cooking.
Mandy Lee's cookbook The Art of Escapism Cooking is available nationwide.
Postcards From The Road is a production of WAMC Northeast Public Radio and is hosted and produced by Elizabeth Hill.  Our theme music is Cherry Blossom Wonders by Kevin MacLeod. As always if you like what you hear SUBSCRIBE on your audio app of choice.  If you would like to share your travel stories with WAMC email us at [email protected].